Special Haunting Events
THE IRISH SAMHAIN EXPERIENCE
Jeanine Plumer with Austin Ghost Tours, Edel O' Regan with Eriu Tours and Fiona Dalton with Dalton's Singing History Tours are hosting a never before trip to the place where Halloween originated – The Ancient East of Ireland. Also joining us Druidess Rachel and
This is a voyage to the mystical. 7-days during Halloween/ Samhain 2023 October 29 – November 4. $3333 per person    Itinerary
Samhain in the Celtic language is a ritual to connect with the dead when it is believed the veil is thinnest. We will rekindle the fire of Samhain during a workshop about Celtic tradition, visit a medieval cemetery on October 31, attend the Puca festival and so much more. This is a trip created by local independent guides and intentionally goes where traditional tours do not.
 Co-host Fiona Dalton singing traditional Irish ballads.
video of high cross        Gerry welcomes us to Ireland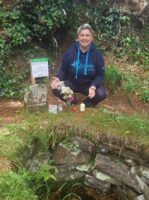 For more information text/call -512-203-5561 info@austinghosttours.com
.