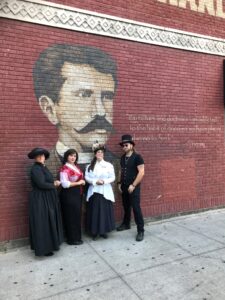 We will be giving HAUNTED HISTORIC DOWNTOWN WALKING TOURS every Wednesday, Thursday, Friday, Saturday and Sunday during the holiday season.
This is an outdoor event. Feel free to contact us directly to reserve a space and if you have questions about group size. Or pay with Venmo. Or click on the above tour day and reserve online.
                  Call or text: 512-203-5561                     email: info@austinghosttours.com
You can pay with a credit card over the phone or email or through Venmo. Thanks!
        Tours begin in the lobby of the Omni Hotel at 8:00 PM             $22 per person 10 years and younger $10 per person + tax
Keeping history alive for 25 years through our friends – the spirits – who have remained to tell their stories.
The only Ghost Tour Company born and raised in Austin, Texas!  All stories are original and  thoroughly researched by our team.  Join us! 
*Tis the season –
Be aware of scam tour companies using our name.  They operate remotely and sell tickets through  third party platforms like Tripadvisor, Expedia  and Groupon. If you can not communicate with a real LOCAL person  it is not a real local tour.
   Call/text: 512-203-5561   email: info@austinghosttours.co