YES! We are giving tours! Also following city and state requirements of social distancing and mask wearing. Also controlling the size of the group. So we can take care of each other and have fun!
*Tis the season –
Be aware of franchise tour companies using our name.  They operate remotely and sell tickets through  third party platforms like Tripadvisor, Expedia  and Groupon. If you can not communicate with a real LOCAL person  it is not a real local tour.
Call/text: 512-203-5561   email: info@austinghosttours.com
SCROLL DOWN TO DISCOVER  WHAT IS HAPPENING IN OCTOBER
Click on tour day to pay online or call us with credit information or Venmo. Reservation's required.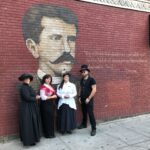 The 150 year old The Neill-Cochran House Museum has ghosts.  THEY HAVE TEAMED UP WITH THE ORIGINAL AUSTIN GHOST TOURS FOR A NIGHT OF STORYTELLING AND INVESTIGATING.  This is a chance to discover the ghosts within the walls. By telling their story perhaps the ghosts will make an appearance, so be prepared to learn the truth about ghosts and have an encounter of your own!  join us! Click here.
Investigations at Pioneer Farms every Thursday night
Special Halloween/Full Moon Investigation
Questions! Thoughts?
text/call:  512-203-5561  info@austinghosttours.com
Keeping history alive for 25 years through our friends – the spirits – who have remained to tell their stories.
The only Ghost Tour Company born and raised in Austin, Texas!  All stories are original and  thoroughly researched by our team.  Join us!