A tornado  struck Austin on May 4, 1922. It destroyed the Bargsley family home to the extent that only the fire place foundation remained. All 6 people in the Bargsley house died.
The Bargsley family had a farm in the area south of Brodie Lane near Davis Lane. The family provided meat to be sold at the family business: Avenue Meat Market on Congress Avenue in Austin.  They were also Truck Farmers selling their farm products in Austin from the back of their truck. 
In the 1920 federal census living in the Bargsley house: Ada Bargsley 42, Sarah ( Sallie) Bargsley 85, James J Thompson 59, Johanna  Thompson 54. 
The dead were, Sarah Lucretia the family matriarch, she was 87 years. The youngest unmarried daughter Ada, she was 46 years old. They are buried in Longview cemetery near brodie Lane. Another 56 year old daughter Joe ( Johanna) Thompson  and her 26 year old son Joe junior and his mother, Alta Thompson  also were killed in the tornado.  They are buried in Oakwood Cemetery in Austin. Not only Bargsley family menbers were killed, 70 year old African American Marie Kincheon and a 10 year old girl named Harper perished. There is no record of where the last two were buried but probably Williamson Creek Cemetery. Some say The Lady in White seen throughout Southwest Austin is one of the Bargsley daughters. 
To listen to the ghost story about the Lady in White click here to listen to our podcast Haunted Texas and Beyond.
To learn more about the tornados click here for the full story.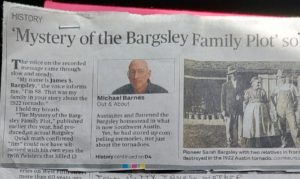 © Copyright 2022, Austin Ghost Tours. All Rights Reserved.